Oil Spill Covers Australian Beaches
Early in the morning of March 11, 2009, the MV Pacific Adventurer notified Australian authorities that it had lost 31 containers overboard in heavy seas, and that damage to the ship resulted in the spillage of about 20 tons of fuel oil. The true extent of the spill, which turned into a disaster for Australian beaches, was only known the next day.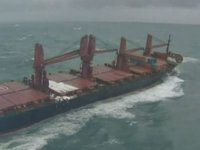 What Happened
By the time Cyclone Hamish was nearing the Queensland coast on March 10, it was a Category 3 storm, with sustained winds of 220 kph. The captain of the 194-meter MV Pacific Adventurer, enroute from Newcastle to Brisbane with 60 containers of ammonium nitrate powder, decided to continue on his route, which would take him past the storm. The ship encountered heavy seas, with up to 9 meter waves. At 3:15 am on March 11, they were making slow headway 7 nautical miles east of Moreton Bay, in the Coral Sea. During a violent 25-degree pitch, cargo on deck broke loose, knocking 31 containers of ammonium nitrate into the ocean. As the ship rolled it struck a container, which punctured two holes in the hull and breached a fuel tank. Heavy fuel oil and lubricant oil began spilling into the ocean.
An initial containment and cleanup response was initiated, but the spill could not be contained because of heavy seas and the unexpectedly large spill. 250 tons of oil, about 200,000 liters, had spilled, creating a slick 5.5 km long and .5 km wide. The oil washed ashore over 60 km of Australia's most popular beaches, prompting the Queensland Premier to declare it a disaster zone on March 13.
Aftermath
Cleanup efforts intensified, with earthmoving equipment brought in to remove soiled sand and hundreds of experts and volunteers at work cleaning the rocks and saving wildlife. At their busiest, the cleanup crews managed 1 km of coastline a day.
The MV Pacific Adventurer was brought to Brisbane, where it left an oil slick in the mouth of the Brisbane River. Two holes were discovered in her hull, one above water measuring 1 cm by 1.5 cm, and one below water measuring 1 meter by 30 cm. It was placed under dock arrest pending investigation.
The Australian Navy dispatched two mine finder vessels to locate the missing containers. They were found, and determined to be damaged, with ammonium nitrate dispersing into the ocean. Scientists puzzled over the possible consequences of 620 tons of fertilizer being dumped into the sea, but with little data to base conjectures on they focused on continued monitoring of the situation.
Links
http://www.youtube.com/watch?v=sENbJMhvat0&NR=1
http://www.msq.qld.gov.au/Home/About_us/Msq_headlines/Headlines_pacific_adventurer
http://www.news.com.au/couriermail/story/0,23739,25179213-952,00.html
Connected safety tips
Other interesting accidents from this country

Westgate Bridge Collapses, Killing 35
15.10.1970 · 35†

Yarraville, Australia
Oil Spill Covers Australian Beaches
11.03.2009 ·

Tangalooma, Australia