On Jul
y 17, 2007, a TAM Airlines Airbus A320 jet crashed in Sao Paulo, Brazil, killing all on board plus civilians on the ground. It is the worst recorded crash in Brazilian aviation, and the worst for any Airbus airplane.
The Congonhas Airport is located in downtown Sao Paulo, and is a notoriously difficult airport at which to land large aircraft. The facility is surrounded by high-rise and industrial buildings, it is subject to strong rain and winds, and was built with a main runway 1940 meters long, barely long enough for large aircraft. It has the nickname 'the aircraft carrier' for its short, difficult landings. Shortly before the accident Congonhas Airport had resurfaced its runway, but had not yet installed grooves to rid the tarmac of rainwater.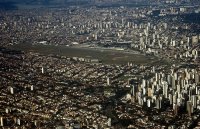 The TAM Airlines flight 3054 was an Airbus A320, serial number 789, in service for various airlines since its construction in February, 1998. It had flown over 20,000 hours. On the day of the accident, the right engine had an inactive thrust reverser, an engine brake used to help slow the plane on landing. According to Airbus, the A320 needs 910 meters of dry runway to land, 1240 meters when wet, and 1700 meters when soaked with standing water, all without thrust reversers.
The day of the accident brought heavy rain to Sao Paulo. On final approach, according to multiple data sources, Flight 3054's thrust levers were set to climb; when speed alarms sounded, only the left thrust lever was retracted. This prevented the automatic deployment of spoilers, and left the right engine with significant throttle. Flight 3054 touched down at the normal runway line, but accelerated and hydroplaned down the wet runway. It veered left and exited the far end of the runway at 90 knots (160 km/h), flying over a busy highway and slamming into a TAM Airlines warehouse, exploding into flames. 181 passengers and 6 crew onboard, plus 12 civilians on the ground, were killed. 11 others were injured.
Two days later another TAM Airlines flight had to abort a landing, and the airport was finally closed for investigation. This disaster resulted in the rerouting of major airlines to different airports, the grooving of Congonhas Airport's runways, and partitioning of blame between the airport, Airbus, and TAM Airlines. More than 50 lawsuits have been launched against the companies involved.
Connected safety tips
Other interesting accidents from this country
TAM Airlines Flight 3054 - Sao Paulo, Brazil
17.07.2007 · 199†
Sao Paulo, Brasil