Following the 2009 Iranian presidential election, protests against alleged electoral fraud, in support of candidate Mir-Hossein Mousavi, have broken out in Tehran and other major cities in Iran. In response, tens of thousands of people have rallied in Tehran to support the victory of Mahmoud Ahmadinejad. President Mahmoud Ahmadinejad dismissed the unrest as little more than "passions after a soccer match" as he drew his own huge rally of support.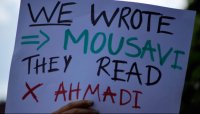 According to a report by an unofficial source, candidate Mir-Hossein Mousavi was arrested following his defeat en route to the home of Iran's supreme leader, Ayatollah Ali Khamenei. Independent journalist Michael Totten has questioned the authenticity of this story. Other anonymous sources said that the police stormed the headquarters of the Islamic Iran Participation Front and arrested a number of people. (according to Wikipedia)
Protests
Clashes broke out between police and groups protesting the election results from early morning on Saturday onward. At the beginning, the protests were mostly peaceful but became increasingly violent. Angry crowds in Tehran broke into shops, tore down signs and smashed windows.The worst civil unrest in Iran for over a decade took place as protesters set fire to tires outside the Interior Ministry building and others formed a human chain of around 300 people to close off a major Tehran street.
Escalating violence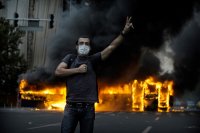 By June 14th protest had become much more violent. Cars were being parked in the middle of the streets and highways in Tehran, and the highways leading to the city, blocking traffic heavily along with burning buses and trash cans. Protestors started attacking shops, government offices, police stations, police vehicles, gas stations and bank. Large protests which escalated into riots had also broken out at Tehran University, Amirkabir University, and Shahid Beheshti University where students started burning and destroying various buildings and items around the campuses. Valiasr Street was completely crowded by protesters and young students attacking policemen and IRGC officials. The police had installed a barricade around Mehrabad Airport and Imam Khomeini International Airport fearing that the protesters were planning to attack them and had also blocked all streets leading to the Interior Ministry, where
protesters were burning tires outside of the building, and were throwing rocks and Molotov cocktails.
In an attempt to quell the protests, many internet sites have been blocked, especially any social networking sites such as Facebook, YouTube, Twitter, foreign broadcasting websites, and reformist websites as well. Text and SMS, and international calls from Tehran were blocked, and by late Sunday, the cell phone services had been shut down.
Reporters from the Italian public television broadcaster RAI stated that one of its interpreters was beaten with clubs by riot police and the officers then confiscated the cameraman's tapes. Also several BBC cameramen were beaten and arrested by IRGC officials and
had their tapes confiscated.
By the middle of the day, the protests had spread to Shiraz, Gorgan, Tabriz, Rasht, and Mashhad where they have been increasing in size. On June 14, large scale protests had broken out in Naqsh-e Jahan Square in Isfahan. Since riot police are largely limited to Tehran, the IRGC and the Basij have been dispatched to quell protests in other cities.
Public Perception in Countrys around Iran

Al Jazeera English has described the situation as the "biggest unrest since the 1979 revolution." It also reported that protests seemed spontaneous without any formal organization. Two hundred people protested outside Iran's embassy in London on 13 June. Ynet has stated that "tens of thousands"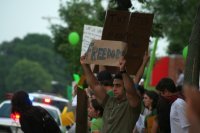 protested on 13 June. Demonstrators chanted phrases such as "Down with the dictator", "Death to the dictator", and "Give us our votes back". Mousavi has urged for calm and asked that his supporters refrain from acts of violence. Protests led by Iranian-Americans were also held outside the Iranian consulate in New York City.
On June 13, modern Middle Eastern and South Asian historian Juan Cole commented that "public demonstrations against the result don't appear to be that big... reformers have always backed down in Iran when challenged by hardliners, in part because no one wants to relive the horrible Great Terror of the 1980s after the revolution, when faction-fighting produced blood in the streets." Independent journalist Michael Totten stated that day that "Tehran almost looks like a war zone already", and he compared Ahmadinejad to Baghdad Bob.
2 people die, 15 students injured.

Ynet reported on 14 June that two people had died in the rioting so far. On June 14, protests were organized outside the United Nations in New York City; in front of the Iranian embassies in Paris, Berlin, London, and Sydney; and in a public square in Toronto. On the night between the 14 and 15 June, 15 students were severly injured by beating when police attacked Tehran University dormitory, where students were gathering.
Rally at 06/15/09 4PM
During the whole day and night of June 14th, protesters announced a rally at 4 PM the next day. Eventough the Iranian government declared any rallies illegal and Mousavi asked his followers to avoid the use violence, many protesters did not change their minds. Rumors were told, that the Iranian police would fire live bullets and was allowed to kill, if necessary.
The developing of the rally, as twittered by @persiankiwi:
"

people pouring into alleyways. running everywhere. can hear people on rooftops.

Khatami and Mousavi have asked that protestors remain peaceful no matter what happens."

"

Jahanbakhsh Khanjali arrested [and]

Karroubi is also joining protest march, [both uncomfirmed]"

"

militia on motorbikes today without uniform. seen several with guns", "

see a helicopter high, in direction of Azadi"

"

people shouting 'Mir Hossein Mousavi - President of Iran'."

"

mousavi has confirmed that he will attend rally to protect people and keep the peace"

"

unconfirmed - Mousavi and Karroubi are in the march now"

"

all friends gone to march. I am now alone. want to go but they want me to stay online.

cannot reach anyone on phones. mobile network is jammed or just too busy"

"

I have massive incoming mail from twitter. cannot possibly reply. our internet conection is 27kb."

"

just received call from street. enghelab square is packed with peaceful marchers", "

the city is very busy. seems like everone is out but most shops are closed, business all quiet. not much normal traffic.", "

can hear helicopters, cannot see them. more than one"

"keeps timing out. hearing rumours that Mousavi and Khatami are in azadi square now, unconfirmed.", "

my last ISP downed. have redialed new ISP, slow process. streets are packed with people. seems peaceful.

"

"

am being told that there are injured students stuck in Tehan dorms. surrounded by baseej.", "

I am hearing that Karoubi is in a car and being escorted through the streets with tens of thousands of people", "

unconfirmed - students killed last night at Tehran Uni dorms.", "

no confirmed sighting of Khatami yet."

"

We have heard what sounds like gunshots in distance. still have people on streets we have not heard from.", "

confirmed - there is shooting in Azadi sq. protesters wounded and shot, no numbers yet, still hearing gunfire", "

people are running in streets outside. There is panic in streets.people going ino houses to hide"

"

Everywhere the city is under pressure - cars tooting, people running motorbikes in large groups, fires and people chanting", "

normally at this time tehran is quiet - last 2 days is crazy"

"

Moussavi - calling national strike tomorrow - all Iran"

"

Troubled day in Isfahan - several protesters killed"

"

reliable source - more than 100 motorbikers at Baseej headquerters in Iran street", "

motorbikes all over Tehran - outside now - they break windows of houses some have pepper gas - they want to scare ppl"
The Importance of Technology
Protesters made heavy use of social networks, such as Twitter. Internet in Iran is not as developed as in western countries like the U.S, it's slow and unreliable, which makes it nearly impossible to run services like skype. Still, it provides users with an outlet to the outside world as the country waits for broadband and wider wireless coverage. With the absence of text messaging and mobile services -- both were cut off across the country on and around election day and were still blocked on Sunday -- Twitter proved to be the most reliable communication technique between people inside Iran and millions of others on the outside thirsty for any update.
Live Correspondence from Tehran

Tweets from "Change_for_Iran" (@change_for_iran) were among several that offered real time updates: "...my friend saying more than 100 students arrested, I can't confirm this but the numbers are high. bastards just attacked us for no reason, I lost count of how much tear gas they launched at us! ...we have now some students with urgent need of medical attention I'm calling out to all ppl who can come here don't leave us."
Twitter was also used between protesters to organise the riots, such as sharing informations about where the police was, where they could reform themselves or where and when they would hold a rally.
Help from Outside
Students twittering about the incidents had always to struggle with everchanging conditions for their internet access, as the Iranian government was actively blocking webservies like Twitter. The protesters got help by a wide vairety of users from all countries, who installed proxy server and made them publicly accessible.
On June 15th, Twitter announced 90 mins of maintenance starting at 9:45p Pacific time, the same day, which lead to a huge amount of people asking people to postpone the maintenace, as the Irani people needed the site to communicate.
Reaction of the Iranian Government
Besides the use of violent policemen, the Iranian government censored websites, cut off the text messaging and mobile services, blocked the power supply and arrested around 100 prominent anti-government figures. None of the sanctions showed the desired effect.
International Reactions

Hamid Karzai, President of Afghanistan, congratulated Ahmadinejad with his election victory.
Arab League Secretary General Amr Moussa congratulated Ahmadinejad on his election victory. "We hope that the next term would witness progress on the relations between Iran and the Arab world and cooperation in establishing peace in the Middle East," he said.
Canadian Foreign Minister Lawrence Cannon said that his country was "deeply concerned" by reports of election irregularities.
Mohammad-Mehdi Akef, a leader in the Muslim Brotherhood, sent a message of congratulations to Ahmadinejad.
A statement by the administration of the European Union stated that the body is "concerned about alleged irregularities".
French foreign minister Bernard Kouchner express his worries with the election results. He also told that it "was the opportunity for Ahmadinejad to open discussions" but instead, they used brutality.
Hezbollah Leader,

Seyyed

Hassan Nasrallah congratulated Ahmadinejad with his victory.

Shiite

lawmaker Sami Askari, a confidante of Prime Minister

Nouri Maliki

, has said that he expects Iran-Iraq relations to stay the same as before and that it would not have changed had the election gone another way.

[

103

]

Iraqi President

Jalal Talebani

,

SCIRI

leader Abdul Aziz al-Hakim and radical cleric Muqtada al-Sadr all congratulated Ahmadinejad on this election victory.
Israel's deputy foreign ministry spokesman, Danny Ayalon, said: "With the results of the election in Iran, the international community must stop a nuclear Iran and Iranian terror immediately. If there was a shadow of a hope for change in Iran, the renewed choice of Ahmadinejad expresses more than anything the growing Iranian threat."
Pakistani President Asif Ali Zardari and Pakistani Prime Minister Yousaf Raza Gillani both sent separate messages congratulating Ahmadinejad with his victory. Zardari said: "This is indeed testimony of the confidence of the people of Iran in your leadership qualities and an acknowledgement of your outstanding services."
Fawzi Barhoum, a spokesman of the Hamas government in Gaza, hailed the election results and said: "The results of the elections in Iran show the wide public support for Iran's policy of challenge," referring to Ahmadinejad's anti-Israeli policy.

Palestinian Islamic Jihad

congratulated Ahmadinejad as well.
Sheikh Hamad Bin Khalifa Al-Thani, the

Emir of Qatar

, also congratulated Ahmadinejad with his election victory.
Syrian President Bashar al-Assad sent Ahmadinejad a cable in which he gave him his "best wishes for progress and prosperity" to the Iranian people.
White House press secretary Robert Gibbs stated "Like the rest of the world, we were impressed by the vigorous debate and enthusiasm that this election generated, particularly among young Iranians. We continue to monitor the entire situation closely, including reports of irregularities". On 12 June—prior to the declaration of the winner—President Obama reacting to a question on the elections stated "We are excited to see what appears to be a robust debate taking place in Iran". Vice President Biden has said, "[i]t sure looks like the way they're suppressing speech, the way they're suppressing crowds, the way in which people are being treated, that there's some real doubt".
Venezuelan President, Hugo Chávez, phoned Ahmadinejad to congratulate his "great and important victory for people fighting for a better world".
Turkish President Abdullah Gül and Prime Minister Recep Tayyip Erdoğan both congratulated Ahmadinejad on his reelection.
Armenian President Serzh Sargsyan sent a congratulatory message to Ahmadinejad. The message said: "On behalf of the people of the Republic of Armenia and myself I warmly congratulate you on the occasion of your re-election as President of the Islamic Republic of Iran and wish you new successes and achievements. I'm confident that we will continue working towards deepening and reinforcement of the Armenian-Iranian relations in different spheres. This is what the traditional mutual respect between our peoples dictates. Once again I congratulate you on this remarkable occasion and wish you robust health, happiness and productive activity."
(according to Wikipedia)
Weblinks
Other interesting accidents from this country
Iran Election Whistleblower Died In a Suspicious Car Accident
17.06.2009 ·

Tehrān, Iran

Mass protests as Ahmadinejad declares Iran elections 2009 victory
12.06.2009 ·

Tehrān, Iran