At 9:15 am on the morning of October 21, 1966, a man-made mountain of coal mining waste slid down onto the village of Aberfan in Wales, killing 144 people, including half the village's children.
What Happened
The National Coal Board's Merthyr Vale Colliery had been dumping its mine waste – coal and rock rubble – onto the side of Merthyr Mountain above the village of Aberfan for 90 years, creating large piles called tips. This was done haphazardly, without any surveying or engineering for site suitability or stability. Locals knew of numerous springs on the mountainside under the tips; many of these springs were clearly marked on government maps of the area. Occasional small slides of these tips – on the order of 3 to 6 meters – had been noted in the past, with no action deemed necessary.
On October 19, 1966, began two days of unusually heavy rain, saturating the tips. At 9:15 am on October 21, Tip #7 slid, turned into a liquefied slurry, and descended on Aberfan. The slide was estimated at 150,000 cubic meters, moving at 30 km/hour; 40,000 cubic meters hit the town, 245 meters from the tip, with an estimated mass of 60,000 to 2,000,000 tons depending on the source of information. Aberfan was in dense fog at the time, with 50 meters visibility, and had no warning. The slide destroyed a canal, a farm, and up to 20 houses, before slamming into Pantglas Junior School. The school was in full session, with children just reaching their classrooms. 144 people died in the landslide, including 116 children. 35 were injured, and 60 homes evacuated or destroyed. Mud filled the school and village to a depth of 12 meters.
The Aftermath
Rescue work began immediately, with local efforts soon assisted by 2000 professional and volunteer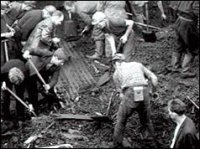 rescuers. By 11:30 am that same day, no more survivors were pulled from the mud. The last body was recovered 7 days later.
The British Government initiated the Davies Inquiry, which heard testimony for an unprecedented 76 days. The inquiry laid total blame on the National Coal Board, which had no oversight of its tips nationwide, required no surveying of where these piles were located, and had ignored the existence of the Merthyr Mountain springs. The NCB initially denied any responsibility for the accident, then claimed fault.
The British populace contributed £1.6 million to an Aberfan Disaster Fund; the NCB appropriated £150,000 of that to pay for tip removal. This was repaid by the British government in 1997. Many residents and survivors of the Aberfan Landslide suffered from post-traumatic stress disorder and other emotional disturbances for years afterwards.
Links
http://www.youtube.com/watch?v=XvMvSLZVzyk
http://news.bbc.co.uk/onthisday/hi/witness/october/21/newsid_3194000/3194860.stm
Connected safety tips
Other interesting accidents from this country
Westhoughton, United Kingdom
Senghenydd, United Kingdom
Aberfan Landslide - Welsh Village Buried Under Coal Waste
21.10.1966 · 144†
Aberfan, United Kingdom
270 killed when bomb is detonated about Pan American Flight 103
21.12.1988 · 270†

Lockerbie, United Kingdom