Ozone Disco Fire
The popular Ozone Disco Club in Quezon City, Philippines, burned down on the evening of March 18, 1996. The fire and resulting panic killed 162 people, mostly teenagers, and injured over 100 more.
What Happened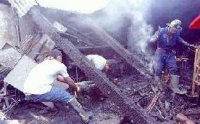 The Ozone Disco Club was built in 1991, issued its permits by Assistant City Engineer Benjamin Malinao, and opened for business. The establishment was poorly designed for its purpose, and poorly maintained. It had one main entrance/exit, accessed from the dance floor by a long hallway, with a door that only opened inwards. There was one emergency exit. It was not equipped with fire alarm or sprinkler systems.
By 1996 the Ozone Disco was a disaster waiting to happen. The emergency exit had been sealed off by the construction of another building, and fire extinguishers no longer worked. On the evening of March 18 the club was full with over 350 partygoers, about ten times its allowed capacity. Shortly after 12:00, fire broke out. Some said that sparks flew from the DJ booth, others that a tank exploded in the kitchen. Fire spread quickly and unchecked through the structure.
The crowd headed for the only exit, creating a crush that killed many of the patrons as they tried to escape. The door, which only opened inwards instead of the mandatory in-out type, was effectively sealed shut by the pressure of the crowd. Bodies ended up piled three feet deep for the length of the hall.
The building's mezzanine level collapsed in the fire, killing more young people beneath it. The fire raged for two hours before being brought under control. By the time it was over, the Ozone Disco Club Fire was the Philippines' largest and most deadly fire, and the second-deadliest nightclub fire in the world to that date.
The Aftermath
6 officials of Westwood Entertainment, owners of the club, were brought to trial on criminal and civil charges resulting from the deaths. The President and Treasurer went to jail for 4 years, and were ordered
to pay restitution to families of the deceased, and to the injured. The owners and directors of Westwood, plus Malinao and 11 other city planning officials, were accused of graft in the granting of permits without a thorough inspection. That case is still undecided.
Links
http://www.nytimes.com/1996/03/19/world/at-least-150-are-killed-in-disco-fire-in-manila.html
http://www.youtube.com/watch?v=6gWmPX9pd9U
Connected safety tips
Other interesting accidents from this country
Balila, Philippines

Ozone Disco Fire, Quezon City, Phillipines
18.03.1996 · 162†

Kamuning, Philippines